Marc Faber - Stock Market Predictions 2014
Featured
April 18, 2014
Dennis Miller: Hide Your Money?
Michael Snyder: Retail Apocalypse
Jeff Clark: Silver Indicator Is "Buy"
Brian Hicks: Atmospheric Satellite Technology
---
Money: Opportunity & Prosperity
April 18, 2014
Cold Fusion: LENR — 'A Dragon With Many Tails'
| | |
| --- | --- |
| | All the Presidents' Bankers: The Hidden Alliances that Drive American Power Nomi Prins' groundbreaking narrative of how an elite group of men transformed the American economy and government, dictated foreign and domestic policy, and shaped world history. | Read More |
James G. Rickards – Death of Money: Coming to a Central Bank Near You
David Morgan Interview on Silver Market, Silver Price Manipulation and the Coming Global Monetary Reset
IRD: Several Factors Suggest A Big Move Is Coming For Gold
Brittany Stepniak: Gold's Going to Go Ballistic, Silver Too
Michael Snyder: 18 Stats That Prove That Government Dependence Has Reached Epidemic Levels
Dan Weil: Living Standards Will Suffer as Food Prices Surge
Charles Hugh-Smith: It's Time to Ditch the Consumer Price Index (CPI)
David Stockman: Stock Buyback Machine On Steroids
Emma Thomson: How Silver is Making a Slow Recovery in 2014
Ayanda Mdluli: Platinum producers capitulate on union pay demand
Brian Hicks: Atmospheric Satellite Technology
Paul Benson: Investing in Sustainable Agriculture
Zero Hedge: The Great Stock Buyback Craze Is Finally Ending
Zero Hedge: If The Smart Money Is Selling, Who's Buying?
---
Health - Continued
April 7, 2014
Wright: Risk of one of the least fatal cancers could be lowered to almost zero
| | |
| --- | --- |
| | Grain Brain: The Surprising Truth about Wheat, Carbs, and Sugar--Your Brain's Silent Killers: The devastating truth about the effects of wheat, sugar, and carbs on the brain, with a 30-day plan to achieve optimum health. Renowned neurologist David Perlmutter, MD, blows the lid off a topic that's been buried in medical literature for far too long: carbs are destroying your brain. | Read More |
Stockton: Omega-7 Protects Against Metabolic Syndrome
Tompkins: CoQ10 Proven Benefits In Heart Failure Patients
Sisson: 11 Surprisingly Effective Exercises You Can Do Without Being "That Guy" in the Office
Sisson: Slow-Cooked Chicken Adobo with Coconut Aminos
Sisson: Cultivating Health During Crisis
Sisson: The Definitive Guide to Resistant Starch
Sisson: Why Squatting Is So Important (plus Tips on How to Do It Right)
Sisson: Homemade Beet and Berry Jello
Sisson: When All You Want to Do Is Sit on the Couch
Sisson: What Did Our Ancient Ancestors Actually Eat?
More News in
Archives!
Judge Napolitano: White House Scandals!
Featured
April 17, 2014
Ron Paul: Bundy standoff not over
Gary Johnson: Libertarians not to blame
Michael Lotfi: Michigan triggers Article V?
Fascism, Communism & Crony-Capitalism?
Ron Paul: America's Phony Budget Debate
---
Politics: Freedom & Liberty
April 17, 2014
Paul Craig Roberts: Privatization Is A Ramp For Corruption and Insouciance Is a Ramp for War
Michael Krieger: Meet Rep. Mike Rogers: Crony Capitalist Knave, Warfare State Blowhard
David Stockman: When Common Sense Is Not Enough: EPA Issues 370-Page Rule To Define Waters of the US
Daily Bell: When Opinion Becomes Disinformation
Paul Craig Roberts: Is the US or the World Coming to an End?
Kit Daniels: Sen. Harry Reid Behind BLM Land Grab of Bundy Ranch
Michael Lotfi: Who actually "owns" America's land? A deeper look at the Bundy Ranch crisis
Megyn Kelly: IRS Seizing Tax Refunds of Children, Grandchildren Over Parents' Decades-Old Debts
Kate Incontrera: Top Ten Tax Mistakes to Avoid, Part 2
Carolyn O'Hara: 7 Last-Minute Tax Filing Mistakes People Often Make
RT: Social Security, Treasury target Americans for their parents' old debts
Feds Forced to Surrender to American Citizens
Russ Baker: New Cover-up in Boston Bombing Saga—Blaming Moscow
SCG: Bundy Ranch - What You're Not Being Told
Bob Moriarty – Tue 15 Apr, 2014
Is Harry Reid Behind the Land Grab of Bundy Ranch? For Personal Gain?
| | |
| --- | --- |
| | The Rule of Nobody: Saving America from Dead Laws and Broken Government Rules have replaced leadership in America. Bureaucracy, regulation, and outmoded law tie our hands and confine policy choices. Nobody asks, "What's the right thing to do here?" | Read More |
Simon Black: This is how free Americans really are
Patrick J. Buchanan: The End of Ideology?
Ron Paul touts Rand as a presidential 'frontrunner'
Ron Paul's nonprofit refuses to disclose list of donors to the IRS
Ron Paul warns that Bundy ranch standoff isn't over just yet
Ron Paul: America's Phony Budget Debate
Rebecca Kaplan: Rand Paul calls for more "nuance" in foreign policy
Gary Johnson: Libertarians won't be to blame
J. Pepper Bryars: Libertarianism isn't an alternative to the Republican Party
Gary Johnson: Coming to a ballot near you
Daily Bell: Conspiracy Theory Goes Mainstream?
Michael Lotfi: Michigan triggers Article V Constitutional Convention?
Peter Suderman: Clinton Leads Potential GOP Contenders in Early 2016 Polling
A. Barton Hinkle: The Dumbest Federal Policy You'll Read About Today
Veronique de Rugy: Department of Cronyism
Jacob Sullum: Pot, Poker, and Prohibitionism
Charles Hugh-Smith: What's the Difference Between Fascism, Communism and Crony-Capitalism? Nothing
Zero Hedge: Obamacare Claims Its Latest Victim: Kathleen Sebelius Resigns As US Health Secretary
Zero Hedge: Russia's New Weapons: Passports And Pipelines
Zero Hedge: Fed Admits Policies Benefit Rich, Fears For "Nation's Democratic Heritage"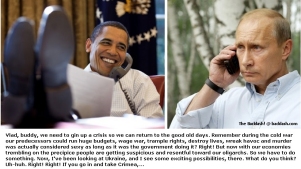 Obama & Putin Crimea Call - Click to Enlarge
---
Health - Continued
April 7, 2014
Sisson: Are Antioxidant Supplements Effective?
Louis: Texas farmers fear arrival of new Dust Bowl
Huff: Japanese physicians link spike in cancer to Fukushima radiation
Devon: Breakthrough technology removes arsenic from groundwater
Michelle: Salad eaters, rejoice! Study shows beneficial nutrients enter bloodstream
Cummins: Corporate Clout Chips away at Organic Standards
Chow: Zinc deficiency mistakes you might not realize you're making
Gutierrez: Chia seeds contain 7.5 times the omega-3 content of salmon, as well as the highest protein content of any edible seed
Adams: The three most dangerous poisons to never eat, drink or inject again
Antonia: Boost male fertility with the right foods
Gutierrez: Vitamin A derivative helps turn precancerous cells back into healthy ones
Chow: 10 quick tips to overcome insomnia and ensure you're sleeping well
Wright: Enjoy a cavity-free future by fortifying yourself with these foods
Heyes: Fort Hood shooter on Ambien, antidepressants and a 'cocktail' of mind-altering meds
Gutierrez: Radiation 'therapy' kills children with brain tumors who might otherwise survive just fine
Bedar: Fertility Secrets: How to create your get-pregnant plan unveiled by 20 holistic experts in new empowerment program
Miller: Why just treating symptoms will never result in true health
Ravensthorpe: Unhealthy food cravings are a sign of mineral deficiencies
Alexander: Cancer treatment found in a tree
Gutierrez: Tuna is the #3 cause of food poisoning in the United States, but not because of bacteria
Huff: Vaccines kill far more people than faulty Chevy Cobalt cars, but drug makers are granted total legal immunity
Huff: Chocolate generates anti-inflammatory nutrients in your gut
More News in
Archives!