AEI: Misguided Crusade Against Campus Greek Life
Featured
March 3, 2015
Milo Yiannopoulos: Games Press Attacks
Neil Lyndon: Do women really want equality?
Robert Tracinski: Exploitation of Women
Mia Love: War on Women Ridiculous
Jeff Sharlet: Man Enough for MRM?
---
Sex: Pro-Woman, Anti-Feminist
February 20, 2015
Bernard Chapin: The Main Contradiction of Feminism
| | |
| --- | --- |
| | Until Proven Innocent: Political Correctness and the Shameful Injustices of the Duke Lacrosse Rape Case Stuart Taylor, Jr. and KC Johnson argue law enforcement, a campaigning prosecutor, biased journalists and left-leaning academics refused to pursue the truth while scapegoats were made of these young men. | Read More |
Ashe Schow: U.Va. president admits rape story was false; keeps restrictions on fraternities
Barbara Kay: Going all the way on sex education
Milo Yiannopoulos: Here's everything Feminist Frequency can teach us about the effect of video games on society
Cathy Young: Rape Trial-By-Media
Eric Owens: Here Are EIGHT Campus Rape Hoaxes Eerily Like The UVA Rape Story
COTWA: Former Columbia student newspaper editor admits the paper would have been excoriated if it had covered Emma Sulkowicz's "rape" story impartially
COTWA: Disturbing false rape claim at Purdue University
Gordon Rayner, and Bill Gardner: Men must prove a woman said 'Yes' under tough new rape rules
Blair Naso: New Evidence Suggests Mattress Rape Victim Emma Sulkowicz Made It Up
Woh Kavi: Feminism has failed to produce a better woman
Dalrock: Guilty until proven innocent, and nothing proves you innocent
Neil Lyndon: At home, women treat men as if they are barely competent
SOMT: Boys were routinely forced to swim in the nude for much of the 20th Century for reasons that don't hold up
Barbara Kay: Rape culture vs. Rape fantasyland
Michael Bloomberg: "95% Of Murderers Fit One M.O. - Male, Minorities, Aged 15-25"
Milo Yiannopoulos: Female Thor Is What Happens When Progressive Hand-Wringing And Misandry Ruin A Cherished Art-Form
Ashe Schow: Protesting due process
Ashe Schow: Obama now claiming 1 in 5 women in America have experienced rape or attempted rape
Ashe Schow: Opening shots in the 2016 'war on women'
COTWA: Ohio University students declare that due process for college men is "bullshit"
COTWA: Mattress-toting Emma Sulkowicz's Timeline
In honor of those who fight for the wrongly accused: "Miss Jean Louise, stand up. Your father's passin'."
Rose Albano Risso: Special ed teacher's vigil enters day two
Stuart Taylor Jr.: Is New York Times Smearing Jameis Winston?
Leslie Loftis: Men, Friendly Tip From A Lawyer: Never Engage In BDSM
KC Johnson: Is Yale Using Title IX to Trump Free Speech?
Janet Halley: Trading the Megaphone for the Gavel in Title IX Enforcement
Matt Welch: Judge 'Outraged' at Innocent Man, Orders Him to Pay $30,000 in Support for Child That Isn't His
Matt Forney: 20 Signs That We're Not Living In A Patriarchy
Why do I include links to crimes committed by women but not men? To counter the stereotype that all men are violent and all women are victims. The stereotype is a lie. Some men are violent. The reports about violent women prove that neither women nor men are better than the other. We are all just people.
---
Health: Defy Disease & Thrive
January 1, 2015
Block: 5-HTP Benefits Match Prozac
ANH: Latest FDA Moves Could Stop Further Research on Supplements
ANH: How a Monopoly Is Turning the Date Rape Drug into a Blockbuster Moneymaker
ANH: USDA Power Play Threatens the Future of Organic Foods
Campbell: 3 "Dirty" (and Sexy) Ways to Boost Your Health Tonight
Samson: How WiFi and Other EMFs Cause Biological Harm
Parry: Scientists Discover 80% Of Fat Leaves Through Lungs?
British Medical Journal: Study Shows Eating Foods From This Region Slows Aging & Linked To Longer Life
ANH: Coca-Cola Is Getting into the Milk Business
ANH: New Date Rape Prevention Tools Exist—But the FDA Is Blocking Their Development and Sale
ANH: The President's Acid Reflux
ANH: Government Says This Year's Flu Shot Is a Dud—But Still Won't Allow Any Discussion of Natural Alternatives
Brownstein: Flu Vaccine and Pregnancy: A Dangerous Practice
Brownstein: Book Review: Living Bliss by Norm Shealy, M.D.
Brownstein: Statins Cause Brain Dysfunction
More News in
Archives!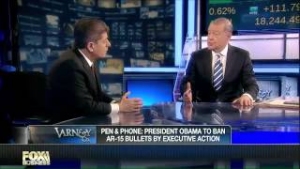 Judge Napolitano: Obama's AR-15 Ammo Ban
Featured
March 4, 2015
Robert Tracinski: Mike Rowe for President
Robert Tracinski: Scott Walker a Threat
Bob Livingston: Fascist State of America
Dmirty Orlov: Financial Collapse Leads to War
Damon Root: Obamacare Returns to SCOTUS
---
Politics: Freedom & Liberty
February 24, 2015
Patrick J. Buchanan: Whose Job Is It to Kill ISIS?
| | |
| --- | --- |
| | Progressivism: A Primer on the Idea Destroying America Jim Ostrowski deconstructs and demolishes the hidden premises of progressivism and shows how they have led to the destructive policies that are dragging America down. | Read More |
Martin Armstrong: Double Standard about Manipulations – Environment v Wall Street
Lee Adler: Hires-To-Openings Ratio At Historic Low
David Stockman: Audit The Fed——And Shackle It, Too
Michael Snyder: Feds Hold Hearing On Whether They Should 'Regulate' Sites Like...The Backlash!
Barry Donegan: Federal Judge May Declare Pot's Classification As Schedule 1 Narcotic Unconstitutional
Annabelle Bamforth: IRS Seizes Nearly $19K From Widow Who Deposited Late Husband's Savings In Increments
Martin Armstrong: When the Foreigner Becomes the Ruler
Martin Armstrong: Any Document Older than 180 days You Have Abandoned for Legal Purposes
Addison Wiggin: Attention to Deficits Disorder
Raúl Ilargi Meijer: The Bogus Narrative About Russia's 'Invasion' Of Ukraine—-Still Not A Shred Of Credible Evidence
Paul Craig Roberts: Putin Just Warned The West It Faces These Terrifying Consequences
Martin Armstrong: NSA Secret Programs Hidden in New Hard Drives
Byron King: Circle May 9 on Your Calendar
John Robb: ISIS Isn't The Long-Term Problem, Saudi Arabia Is
Michael Snyder: When It Comes To ISIS, Obama Is Utterly Clueless
Kevin Ryan: Science Died On 9/11
Chris Martenson: The US's Suicidal Strategy on Ukraine
Charles Hugh Smith: Greece and the Endgame of the Neocolonial Model of Exploitation
Justin Raimondo: Washington's Kosovo "Liberation"——Now A Gangster State Debacle
Catherine Austin Fitts: A Important Warning: Stop Any Call for a Constitutional Convention
Matt Taibbi: A Whistleblower's Horror Story
Michael Krieger: Jeb Bush Exposed Part 1 – His Top Advisors Will Be the Architects of His Brother's Iraq War
Paul Rosenberg: Going Nowhere While Very, Very Frightened
Michael S. Rozeff: The War Party's Death Couple: How Kagan + Nuland Peddle Neocon Aggression
Justin Raimondo: Jeb Bush's Debut Speech: More War Party Prattle
Zero Hedge: The Terms Of The Ukraine Cease-Fire: Presenting "East Ukraine"
Zero Hedge: "Independent" Fed Lobbies GOP Against Audit
Zero Hedge: Elizabeth Warren Opposes "Congressional Meddling" 'Audit The Fed' Bill
Zero Hedge: Rand Paul Explains What The Dollar Is Backed By: "Used Car Loans, Bad Home Loans, Distressed Assets And Derivatives"
Zero Hedge: France Pivots To Putin, Cyprus Offers Moscow Military Base, Germany-US Splinter On Ukraine
---
Health - Continued
January 1, 2015
Mercola: Water Fluoridation: The "Healthy" Practice That Has Deceived the World
Mercola: Warning—BPA-Free Plastic Containers May Be Just as Hazardous
Mercola: Some Things You Can Do in Your Sleep, Literally
Mercola: The Pros and Cons of Free Weights versus Resistance Machines
Mercola: Why Aren't Shoes Preventing Running Injuries?
Mercola: 6 Surprising Chronic Pain Triggers
Mercola: How to Regenerate Soil Using Cover Crops and Regenerative Land Management
Mercola: Ginger Baby Bok Choy Recipe
Mercola: Food Allergies Fifth Leading Chronic Illness in US
Cowan: What's the Real Cause of Heart Attacks?
Mercola: Can Exercise Be Replaced with a Supplement?
Mercola: Are Children Medicated for Convenience, or Necessity?
Mercola: What You Need to Know About Grass-Fed Beef
Mercola: Vitamin D Deficiency Significantly Raises Your Risk of Cancer and All-Cause Mortality
Mercola: Phthalates and BPA Linked to IQ Reductions in Children, but FDA Reasserts the Chemical's Safety
Mercola: High Blood Sugar Levels Linked to Memory Loss
Huff: The science is conclusive: Mobile phones cause cancer
Ravensthorpe: Four surprising uses for hydrogen peroxide
Lilley: Vitamin B supplementation before conception improves health of newborns
More News in
Archives!