---
Women & Men - May 31, 2013
JD Johannes: Book Review: Men On Strike
FIRE Response to OCR's May 29, 2013 Statement to Concerned Citizens
Jennifer Ludden: Alimony Till Death Do Us Part? Nay, Say Some Ex-Spouses
Noah Berlatsky: When Men Experience Sexism
Craig Takeuchi: Attention Whores to Entertain Men and Insult Women with SlutWalk Vancouver on June 2nd
Jessica Hynes: it's OK to poke fun at suffragettes
SAVE: Evangelina Perez's DV Injuries Were Self-Inflicted
SAVE: Wrongly Convicted Man's Brother Gives Tongue-Lashing to Politician
Paul Elam: The War on Men is On
Robert Franklin Esq.: 'Cuckoo's Nest' an allegory of gender feminism
Andy Thomas: A female monster and a hidden sufferer?
Victory Zen: Facebook hates women?
Paul Elam: A conversation with Stardusk
Patrice Stanton: Genital modification… dissected
Neil Westlake & JTO: Tell us your story in your own voice
Breaking the Glasses: Somebody Else's What?
COTWA: Lisa Livia makes false rape claim against man who secretly filmed her abusing her children
Sabrina Schaeffer: Do Women in HR Sabotage Female Job Seekers?
Rights Of Man: Breakthrough Week in the Fight for Equality for Men and Boys
Rights Of Man: End of Equal and Blind Justice Moves Ever Closer
Spearhead: What Gays can teach Straights about Marriage According to The Atlantic
Spearhead: Charles Ramsey Proves that it Doesn't Pay to be a "White Knight"
Spearhead: Openly Rejecting the Concept of "Gender Equality"
WAVE: Facebook Agrees to Block Sexual Assault 'Humor'
WAVE: Jodi Arias 'Survivor' Shirt Sickening, Says DV victim
Fidelbogen: Feminism Will Not Tolerate the Existence of Non-Feminism
Motion to Condemn Men's Rights groups because MRA groups condemn feminist violence - (PDF) see p.17, first entry.
Infographic Shows Women Control Most of the Wealth in the US
Justin Vacula: Amanda Marcotte refuses to honor her own debate challenge
Robyn Urback: Ontario's patronizing plan to push more women up the corporate ladder
Jillian Berman: New PayScale Study Challenges Conventional Thinking On Why Women Make Less Than Men
Brigid Schulte: Nearly 40 percent of mothers are now the family breadwinners, report says
Charlotte Hays: Breadwinner Moms on the Rise
Economist: Childhood mortality rates differ for boys and girls
The Double Standard I have the hardest time with
Petition: End Sexism in the Affordable Care Act
Doug Gross: Facebook to target sexist hate speech with only input from women's groups
---
Women & Men - May 29, 2013
Peter Alamano: Michael Kimmel's Guyland is a masterpiece — of manipulation and deceit
Cathy Young: More government overreach -- on campus sexual harassment
Cathy Young: Feminists vs. Facebook
Marcus Brotherton: How a guy becomes a man
Michael Pollan: Why the family meal is crucial to civilisation
SAVE: How the Federal Blueprint Breaks New Ground
SAVE: 'Alice in Wonderland' Coercion
John Hembling: My relationship with evil
Suzanne McCarley: Samsung insults us all with new ad
Loy Finley: Finly issues ultimatum to AVFM
Diana Davison: The boardroom bitches
Dan Perrins: In the trenches with Suzanne
Peter Lloyd: Melissa Kite hates men, wants father
Dean Esmay: Domestic Violence Revelations with Erin Pizzey
Michael Sharron: Jodi Arias turning murder into T-shirt sales
Lucian Vâlsan: Spanish Gender Stalinism – Part II
Breaking the Glasses: Somebody Else's What?
Cathy Young: Women still have easier time in court
COTWA: Where is the outrage for Chad Lesko?
COTWA: Forensic experts, police, conspired to send man to prison for 20 years for a rape he didn't commit
Lucian Vâlsan: Italy declares war against Italian men
Dan Perrins: Booze: the weapon of sluts
Jason Gregory: Objects of utility vs. objects of sexuality
Eivind Berge: Lex Berge is in effect
Sabrina Schaeffer: Beauty Pays...Or Does it Hurt?
JudgyBitch: Canada eliminates Father's Day! My, how progressive.
JudgyBitch: Male booksellers unite in a call to end the sexist objectification of men's bodies on the covers of romance novels. Enough with this six-pack shit!
Jake Edmiston: Parents launch petition to bring back Father's Day cards after school replaces holiday with 'Family Day'
Masculist Man: What wasn't published on the Spearhead
Masculist Man: Evil men and good women
Francis Baumli, Ph.D.: Hobos, bums, bag ladies, street people
Alastair Hilton: Sexual Violence Against Boys & Men in Conflict Settings
Spearhead: The Great Gatsby — An American in Babylon
---
Women & Men - May 24, 2013
Amanda Marcotte too lazy to pick up a book issues a challenge nobody got then crows over lack of response
Clare Horsfall: Housewife revival is not such a bad thing
Don't Use Positions To Vilify Men- Gender Minister Tells Women
SAVE: Unprecedented Domestic Violence Study Affirms Need to Recognize Male Victims
SAVE: SURVEY: Experiences of LGBT Survivors of Domestic Abuse
SAVE: False-Accusing Mom Loses Child Custody
SAVE: Tell Kia Motors to Stop Promoting Female Violence
Glen Poole: Reason for cheer about the men's movement
Peter Allemano: Michael Kimmel's mendacious men's "advocacy"
James Huff: The Voice of Europe: Abortion and LPS
Paul Elam: Jake Pentland on AVFM Radio
Victor Zen: Male suicide is funny! Marketing gone wrong
Jared White: Welcome to the Femtriarchy
Breaking the Glasses: All in how you look at it
COTWA: A bill to create an exoneration commission that would study false convictions at a standstill in Texas Legislature
COTWA: False accuser who sent innocent young man to prison for four years pleads guilty to perjury
COTWA: Mother who falsely accused ex-husband of abusing children loses custody of children
Counter-Feminist: The Political Efficiency of Non-Violence
Robert Franklin, Esq.: Nebraska Judiciary Unethically Lobbied Against Shared Parenting
Robert Franklin, Esq.: The Fix is In: Nebraska Parenting Act Panel Acts in Secret, Violates State Law
Carrie Lukas: Young Man: Uncle Sam Wants YOU...Or At Least Your Wallet
Masculist Man: Boycott Kia for their misandric commercial
Tami Luhby: Who will pay more under Obamacare? Young men
NCFM: Men get screwed by Obamacare…nothing new for men
Glenn Garvin: Welcome to 'unwelcome' speech on campus
Emmanuel Goldstein: The Road To Whoredom Is Paved With Abstinence
Brian Doherty: Say Anything Sexual That Offends Anyone on Campus, You Must Be Punished or School Can Lose Federal Funding
Spearhead: A circle of victimhood in Florida statutory case
Mark J. Perry: Stunning college degree gap: Women have earned almost 10 million more mostly useless college degrees than men since 1982
Althouse: Working-class students struggle with 'composite masculinity,' study finds
Kayla Brooke Earl Faked Own Attack To Get Ex-Boyfriend's Attention
Oratorasaurus: 50 Domestic Violence Myths
Gerry Bellett: 3 in 4 B.C. boys on street sexually exploited by women
---
Women & Men - May 22, 2013
Daniel Engber: Who's Your Daddy?
Octavia Sheepshanks: Man-Hating Feminism More Than Just A Myth
Arutz Sheva: Feminism Felling Divorced Dads
Hans A. von Spakovsky: Making a Request for a Date Could Be a Federal Crime
SAVE: 'Every Current and Future Victim of Rape' is Harmed by Fake Claims
Paul Elam: On AVFM and MRA London
John Hembling: Who are you, man?
Lucian Vâlsan: Spanish Gender Stalinism – Part I
Deborah Kendrick: My evolution from Feminism to the MHRM
Erin Pizzey: On Behalf of MRA London
Paul Elam: Study: 91% of mothers abuse children, fathers 7%
MRA London: A Very British Coup
Gordon Wadsworth: Infantriarchy
COTWA: Innocent man arrested on false rape claim
COTWA: College student leader: Requiring substantial evidence of a sex offense before a student may be expelled 'automatically assum[es] the information from the victim is false'
COTWA: 'Plainly wicked' false rape claim denounced
Robert Franklin, Esq.: Outrage at The Guardian! Men Have a Say about Childbearing!
Robert Franklin, Esq.: Dr. Les Veskrna Responds to Nebraska Bar President's Opposition to Shared Parenting Bill
Jim Doyle: Gendering Class, Part I
Masculist Man: Brown University stands up to rape lies
Mikael: Real Men Make Sandwiches
Spearhead: A circle of victimhood in Florida statutory case
Spearhead: Israel's progression to American-style family law regime remarkably rapid
Spearhead: On the Urgent Necessity of Criticizing Women
9 Reasons Why I Can't Stand Modern-Day Feminists
A Vaidyanathan: Consensual sex with intention to marry is not rape: Supreme Court
Nico Roesler: Glorieta teen accused of blackmailing sex partner
Ross Douthat: All the Lonely People
Rowan Scarborough: Victims of sex assaults in military are mostly men
Eric W. Dolan: Female gender stereotypes have little impact on voting behavior: study
Jack O'Sullivan: The masculinity debate: no wonder men stay out of it
allmenproject: Call to Men's Helpline Triple Thanks to Coronation Street
allmenproject: Time to Tackle Misandry and Dismantle the Matriarchy?
Ailin Quinlan: The male victims of domestic violence
---
Women & Men - May 19, 2013
Cathy Young: Michael Kimmel's Classic Text on Gender Is All Wrong
Rod Van Mechelen: Is it time to boycott female college students?
Judgy Bitch: Should teen pregnancy prevention campaigns target boys? Absolutely. That's probably the only thing that will work.
Neil Davenport: A nightmare vision of the welfarist trap
Alexandra Wolfe: Gabrielle Reece Considers Herself A Humanist, Not A Feminist
Diana Davison: The pulpit of poon
Harry Crouch: Will Francis "Coyote" Shivers be arrested tonight because of a trap set by ex-wife Pauley Perrette?
Claire-Louise Meadows: Diane Abbott: creating a crisis of solipsism
Karra Burrell: A video for Brad Casey
Why contract law is not justification for criminalizing drunk sex as rape
COTWA: British Home Secretary: Suspects should have right to anonymity at arrest
Robert Franklin, Esq.: British Mom: Social Services 'A Nightmare'
David: You Were Born To Follow
Spearhead: Does collapse of old media explain proliferation of scandals?
Mona Charen: Obama Administration Scraps Free Speech
Hans Bader: Obama Administration Defines College Dating and Flirting as 'Sexual Harassment'
Pregnant wife gets only four months for murdering husband - she shot him with a handgun after chasing him in her car for six blocks: Inequality under the law, sexist female sentencing discount
Timothy Dionisopoulos: Northwestern student govt nominee's confirmation blocked because he is a 'heterosexual white male'
Katherine Timpf: Liberal student-activist accused of Facebook rape-hoax also threatened former boss with handgun
Moscow wife pleads guilty to stabbing and pouring gas on husband in the presence of a child. female sentencing discount: felony charge reduced to a misdemeanor charge
Krystle Harrison, 19, arrested for biting boyfriend's penis after he refused to have sex
Sherrie Peif: Tank-top protest repeats a second day at Greeley high school
Michaeleen Doucleff: The Unsafe Sex: Should The World Invest More In Men's Health?
The British Psychological Society: Absent fathers and depressed adolescents
Bill Briggs: Male rape survivors tackle military assault in tough-guy culture
Greg Lukianoff: Feds to Students: You Can't Say That
Frank Bass: More Than 3 in 5 New Young Mothers Unwed in 2011, Census Says
Gavin McInnes: Let's Not Let Boys Be Boys
---
Women & Men - May 17, 2013
Christina Hoff Sommers: Let's not oversell the financial benefits of having women on corporate boards
Lucy Sherriff: York University Student Officer Mike Anstey: 'Enough Of This Feminism Nonsense'
Glen Poole: How tackling the 'crisis of masculinity' creates a crisis for feminism
Robyn Pennacchia: Weirdo columnist uses Amanda Berry to show why feminism and gay marriage are ruining motherhood
Fawaz Shaheen: Muslim Women Take on Topless Activists
Some young guy: Feminism is doing more harm than good!
SAVE: Tell Eric Holder to End Misconduct by VAWA-funded Prosecutors
Prosecutor Bias and Misconduct are Widespread, Says SAVE Report
Paul Elam: To Coach John Wolfgram, Portland, Maine
Paul Elam: Houston, we have a solution
Elly Tams: In defence of Patton Oswalt
Dean Esmay: Brad Casey wants to mind-rape our women!
James Huff: The Voice of Europe: Male health
AVFM News and Activism: Gary Costanza
Paul Elam: So long, Arty Goldwag
Paul Elam: Time to ditch the rape advocates
Breaking the Glasses: Teach feminists not to lie
COTWA: Woman fabricates rape lie because she didn't want to pay for a taxi ride home and knew police would give her a free ride
COTWA: Attention craving Kirsty Debanks had boyfriend arrested on false rape claim, smirked when she finally recanted the lie to police
COTWA: Most shocking federal policy yet: sexual harassment on campus is now defined by the accuser's subjective feelings, regardless of how irrational they might be
Robert Franklin, Esq.: Parental Alienation Affects Mothers as Well as Fathers
Robert Franklin, Esq.: New Website Highlights Women's Contributions to Shared Parenting Movement
Robert Franklin, Esq.: President of Nebraska Bar Misrepresents Shared Parenting Bill, Bar's Opposition to It
Jim Doyle: New words, Part III
Jim Doyle: Feminists, radfems and trad-fems – not a dime's worth of difference
Emmanuel Goldstein: Open Letter To American Fathers
Tuthmosis: A Final Blow To American Education
Spearhead: Feminists in Power: IRS Agents Working for Planned Parenthood
Spearhead: Man unilaterally aborts child, charged with murder
Spearhead: Confusion Over Kermit
Spearhead: 90 Essays from a Black Knight: A Review of The Best of Roosh, Volume 1
Spearhead: Pentagon Report Fuels Media Rape Fantasies
---
Women & Men - May 14, 2013
Michael Terheyden: Two Opposing Visions of Women, Part One
Carolyn Jones: The Perils of Toy Shopping With a Feminist Mom
Alexander Baron: Debunking 'feminist' nonsense on YouTube
SAVE: Nicole L. Mitchell Arrested after False Report of Sexual Assault
SAVE: Does U.S. Rule Make Women's and Gender Studies Classes Sexual Harassment?
FIRE: Federal Government Mandates Unconstitutional Campus Speech Codes
Breaking the Glasses: Well, ship.
COTWA: Raquel Maxfield, 26, arrested after lying about rape
COTWA: The military's hidden epidemic: false or baseless claims of sexual abuse
Robert Franklin, Esq.: Richmond Virginia Child Welfare Agency in Chaos
Lucian Vâlsan: Becoming radical Nazi: On Jewish violence
Claire-Louise Meadows: On money-grabbing…
Fidelbogen: Men's rights are human rights, got that?
Aimee McGee: I am my father's daughter
August Lřvenskiolds: Feminist Tropes vs Monty Python's Flying Circus
Mike Buchanan: J4MB, Buchanan moving forward
Claire-Louise Meadows: An interview with Peter Lloyd
JudgyBitch: Manboobz fails kindergarten math. Big surprise there.
Masculist Man: From and about a voice for men
Athlone McGinnis: How The Gender Script Was Flipped
Wycked: The Mosou: A Matriarchal Dream or Aberration of History?
Spearhead: A NY Times Mother's Day Op-ed: Trannies are Equal Moms
Spearhead: DOJ Flexes Muscle in Missoula, Throws Shadow Over UM
Rowan Scarborough: False reports outpace sex assaults in the military
Robert Franklin, Esq.: Parental Alienation Affects Mothers as Well as Fathers
Sam de Brito: All men are liars
Mark J. Perry: No commencement speaker will mention the huge gender college degree gap for the class of 2013 favoring women
In the poorest place in the USA: median income for men is $0, while median income for women is $12,188
---
Women & Men - May 11, 2013
Michael Duncan: Stop the 'feminists'!
SAVE: 'New Jim Crow' Incarcerations Raise Uncomfortable Questions
SAVE: PA City Punishes Domestic Violence Victims Who Call the Police
The liars, the snitch, and the magic red tape
COTWA: Police: Woman arrested after lying about rape
COTWA: Notorious false rape accuser faces unrelated fraud charges
Counter-Feminist: The Fault is in Our Semantics
Robert Franklin, Esq.: 'Shared Parenting – Good for Kids, Bad for Lawyers'
Robert Franklin, Esq.: Discipline Case Against Prosecutor Mary Kellett Heating Up
JudgyBitch: Should greedy wives walk away with all the spoils? Well, that depends. And this is why no fault divorce is insane.
JudgyBitch: Should 13 year olds be having sex? Probably not. They shouldn't be fame whores, either.
Masculist Man: The Kellett case goes to the Maine Supreme Judical Court
NCFM calls for closer scrutiny of violent women who abuse men in light of Travis Alexander's murder by Jodi Aris
NCFM announces the first annual International Foreskin Awareness Week
Gordon Finely: Why do bar associations oppose alimony reform?
Faust: Loving And Hating Feminism At The Same Time
Emmanuel Goldstein: Why Modern Dating Is Like Illegal Alaskan Halibut Fishing
Spearhead: With Heavy Police Backup, Jewish Feminists Defy Orthodox Tradition
Spearhead: Surprisingly Humorless Onion Piece Proves Me Right
Spearhead: As Rabbinic Courts Neutered, Israeli Divorce Rate Rises
Spearhead: Manboobz Chronicles — I'm So Ronery, by Andrew Johnston
Jane Velez-Mitchell: Arias Got What she Deserves
Petition: Make registering for the draft a requirement for both sexes
Men Get Sexually Harassed Too - And It's Harder On Them Than Women
Federal Government Mandates Unconstitutional Speech Codes at Colleges and Universities Nationwide
Catherine MacKinnon, Title IX, and the Great Rape Bomb of '86
Self-loathing - The male feminist delusion
Crony capitalist Warren Buffett is bullish ... on women
Why Some Men Don't Get Married
Rob Brooks: China's biggest problem? Too many men
Canadian man Lee David Clayworth 'powerless' to stop online hate campaign by Lee Ching Yan
Tom Golden: Open Letter to Symantec/Norton/O2 regarding the Censoring and Labeling of Men's Sites as Hateful
Max Rivlin-Nadler: Male Teachers Get Longer Sentences For Sexually Abusing Students Than Female Teachers
Rights of Man: O2 and Symantec Admit that Fathers Rights Aren't Hateful
---
Women & Men - May 9, 2013
Zero Hedge: No Country For Prime-Aged, Male Workers
Glosswitch: What's the point of a "feminism" which attacks mothers?
Mona Chalabi: The other gender divide: where men are losing out
SAVE: Section 808 of VAWA Can Crush Individual Freedoms
James Huff: The Voice of Europe: Male death
VFM News and Commentary: Where are the women?
Ty Henry: MMA fighter Phil Davis' most dangerous battle
Dr. Tara J. Palmatier: The DAHMW needs your help
Michael Sharron: UNC Chapel Hill Women's Hospital and misandry?
COTWA: Princeton's Student Newspaper to the Wrongly Accused: Drop Dead
COTWA: Notorious false rape accuser faces unrelated fraud charges
COTWA: Man wins settlement from city after cop invents fake lab report linking his DNA to scene of alleged sexual assault
Robert Franklin, Esq.: Walter Sharpe Strikes Out; Wrongly Tagged with Child Support, Court Rules He Has No Recourse
Robert Franklin, Esq.: Florida Governor Rick Scott Vetoes Alimony Reform/Equal Parenting Bill
Carrie L. Lukas: Can the President Convince Young Men to Buy Over-Priced Insurance?
JudgyBitch: The real face of domestic terrorism? Radical white feminists. It's not about equality and they're not afraid to say it.
JudgyBitch: Rape culture didn't kill Rehtaeh Parsons. Slut culture did.
Law Dogger: Do Not Buy Her Dinner
Black Knight: Stop Watching Sports
Balboa: The Future Of The Manosphere
Athlone McGinnis: Why There Are No 10?s
Spearhead: Justice for Travis Alexander
Spearhead: University of Wisconsin Probes Vagina Monologues Incident
Spearhead: Divorced Dads and Little League — A Followup
Spearhead: Meet "The Patriarchy"
Spearhead: Were the 1950s so bad?
Claire-Louise Meadows: The World is Focusing on Women's Issues While Happily Ignoring Men's
Liz Hodgkinson: We fought for equality. So why do greedy wives still sponge off their ex-husbands?
Child Support 101: Beating the "Deadbeat Dad" Stigma
Seven More Men's Human Rights Sites Smeared and Censored by Symantec
Jim Doyle: This is how deep the rot goes – #killallmen
Jim Doyle: Police violence and who it targets
The Bank Note Petition and Feminist McCarthyism
---
Women & Men - May 6, 2013
Rush Limbaugh: Have We Defeated Feminism?
Real women don't need "feminism"
Lucy Mangan on her feminist education
Laura Donnelly: Research suggests bras do no good
Jo Barrow: York University SU rejects feminist society
SAVE: Earl Silverman is Gone, but His Dream Lives On
Raz: MR-E Hosts Earl Silverman Memorial
John Kimble: Symantec, O2 still censoring/defaming MHRA sites
John Hembling: Gloating over Earl Silverman's corpse
Andy Thomas: We're the radicals now
James Huff: The Voice of Europe: Male death
Alex Hunt: The cunning evil of men
Greg Canning: Equality cupcakes
COTWA: Woman who claims she has been raped by up to eight different people on nine or more separate occasions is charged with making false rape report
COTWA: Young attorney jailed for having the audacity to assert his client's Fifth Amendment rights
FidelBogen: Feminism Shows Its True Colors Again!
Robert Franklin, Esq.: Court Wastes 3 Years Returning Son to Fit Father After Overseas Military Deployment
Robert Franklin, Esq.: Russian Parents Get Son Back from Child Protective Services, With a Catch
Robert Franklin, Esq.: Catherine Kieu Becker Guilty of Aggravated Mayhem and Torture
Tamen: Mary Koss: The Corruption Continues Manboobz Style
Fathers4Equality: Another female Murderer…another light sentence
Derek Sivers: Changing my operating system
Quintus Curtius: The Parable of Aepyornis Island
Roosh: Kiss Talks About Groupies On Oprah
Tuthmosis: The Advantage Of Being A Late-Bloomer
Athlone McGinnis: Why Money Can No Longer Save The Beta Male
Spearhead: A Feminist Admits That Feminism Isn't About Equality
Spearhead: Feminists Acknowledge PR Problem
Spearhead: There may be hope yet
Fighter Phil Davis Facing False Allegation Fight Fathers Often Do
Emma Innes: Children brought up by two parents are more intelligent - because they develop more brain cells
Shana Rose: Anti-circumcision activists coming to NOLA want doctors to put down the knife
David Duemler: In Defense of Men Let's not feed hatred and fear
---
Women & Men - May 2, 2013
Christina Hoff Sommers: Take the test: Feminist shenanigans or satire?
Ally Fogg: The life of Earl Silverman, Canadian domestic violence activist, was an inspiration
Jennifer Harper: Feminism may be dead: 72 percent of Americans say they're not 'feminists'
Roid Rage: Who is harmed by unrealistic body images?
Jeffrey Tayler: Men Support Femen Because We Like to Ogle...Uh, They Make Us Think! Yea, That's It!
SAVE: Woman Found Guilty of Torture for Severing Ex-husband's Penis
Lucian Vâlsan: Feminists lose elections in Iceland
Andy Bob: MHRM's Newest Recruit: Catherine Deveny – Rapetard
Dean Esmay: Help request: AVfM Reference Wiki
Justice for Men and Boys Party Arrives
Mark Trueblood: A pile of corpses is no place to make love
AVFM News and Activism: Fidelbogen II
August Lřvenskiolds: Branding the feminist reptilian brain
ACFC: Organized Opposition to Shared Parenting
Breaking the Glasses: Where are you, NOW?
COTWA: Facebook 'rape threat' against activist spurs huge anti-rape culture rally -- but now, police have charged the activist for posting the threat against herself
COTWA: Overwhelming public support favors anonymity for men and boys accused of rape; rape victims' advocates cry 'victim blaming' and other non sequiturs
Robert Franklin, Esq.: Abducting Mother of Four Italian Girls Part of Previous Scam
GendErratic: Ann Coulter says 2% Rape Statistic is Bogus
Alison Tieman: Erasing male rape victims, Part II – Tamen evaluates a British and a Norwegian study on rape victims and finds invalidating methodological errors
Charlotte Hays: Best Parlor Game Ever: "Feminist Shenanigans or Satire?"
JudgyBitch: Sulky little bitch can't manage her money, threatens her husband with divorce if he doesn't give her more. Sulky bitch is clearly also a stupid bitch.
Masculist Man: Misandric hit piece on Earl
Harry Crouch: Earl Silverman, Murdered by Suicide by the Feminist State of Canada
Greg Andresen on domestic violence not due to masculinity…
Spearhead: Rehtaeh Parsons, Steubenville, Rape Hysteria and Feminist Vigilantism
Spearhead: Girls can't get enough of Dzhokhar
Spearhead: Shake and Bake Software Engineers
Oliver Burkeman: Gillian Flynn on her bestseller Gone Girl and accusations of misogyny
Peter Barzilai: Torii Hunter's son seeks $40 million in lawsuit
Michael Miller: New Washington State Law Bans Words 'Penmanship,' 'Freshman,' 'Fisherman' as Sexist
Diana Rigg: Women who complain about men holding the door are 'stupid'
Hemant Mehta: The Problems with Male Circumcision: An Interview with the Producer of American Secret
Kristina Hansen: The Earl Silverman Center journey
Rachel Alexander: Jailed for Nonpayment of Child Support - But it's Not His Child
Aleister G: Brown Spectator author rips apart inflated campus rape stats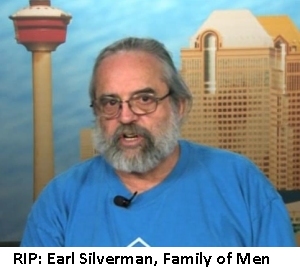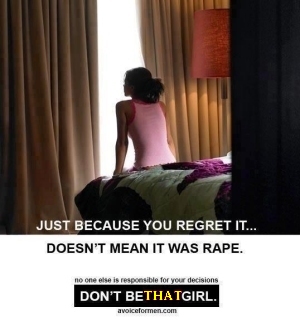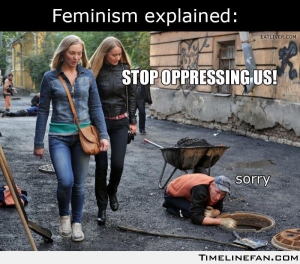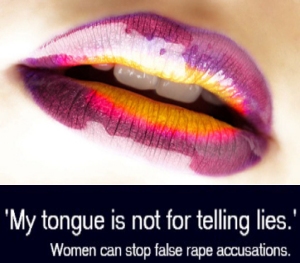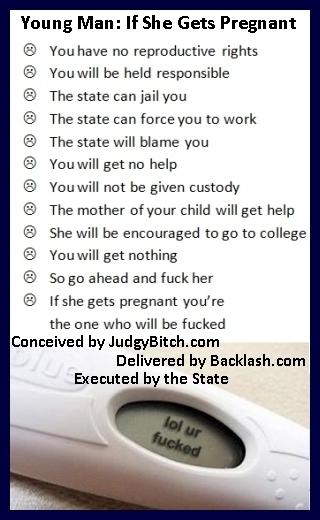 Recommended Reading
Adams: Feminists Say the Darndest Things

Adams: Women First, Men Last

Baskerville: Taken into Custody

Bennett: Book of Man

Cook: Abused Men

Cora: Alpha Female

Crittenden: What Our Mothers Didn't Tell Us

Ellis: Rantings of a Single Male

Friedman: Smart Girl's Shame-Free Guide to Sex and Safety

Farrell, Svoboda, & Sterba: Does Feminism Discriminate?

Farrell: Father and Child Reunion

Farrell: Liberated Man

Farrell: Myth of Male Power

Farrell: Why Men Are the Way They Are

Farrell: Why Men Earn More

Farrell: Women Can't Hear What Men Don't Say

Friedman & Valenti: Yes Means Yes!

Garbarino: See Jane Hit

Gilder: Men and Marriage

Glover: No More Mr. Nice Guy!

Gross: Fathers' Rights, 2E

Graglia: A Brief Against Feminism

Hise: War Against Men

Levy: Female Chauvinist Pigs

Locke: Duels and Duets

Marques: Alpha Power

McElroy: Sexual Correctness: Attack on Women

Nathanson & Young: Legalizing Misandry

Nathanson & Young: Spreading Misandry

O'Pie: Why Britain Hates Men: Exposing Feminism

Pearce: Coming Population Crash

Pearson: Violent Women & the Myth of Innocence

Pizzey: This Way to the Revolution

Schappell: Blueprints for Building Better Girls

Sheppard & Cleary: That Bitch

Sheppard & Cleary: Venus: The Dark Side

Sommers: Science on Women and Science

Sommers: Who Stole Feminism?

Venker and Schlafly: Flipside of Feminism

Waldman and Levi: Inside This Place, Not of It

Whitmire: Why Boys Fail

Young: Ceasefire! Why Women and Men Must Join Forces