CS MGTOW: Response to Julia Tourianski
Featured
October 6, 2015
Paul Joseph Watson: Feminists Pee Their Pants
Cathy Young: Progressive Double Standards
Mack Lamoureux: Men Swearing Off Women
Jennifer Schaffer: Not Enough Men
Peter Lloyd: Why Men Won't Marry
---
Sex: Pro-Equality, Anti-Feminist
September 21, 2015
Bernard Chapin: Woman as Infant
| | |
| --- | --- |
| | Why Men Earn More: The Startling Truth Behind the Pay Gap -- and What Women Can Do About It: Controversial and exhaustively researched, gender expert Warren Farrell's latest book Why Men Earn More takes as its stunning argument the idea that bias-based unequal pay for women is largely a myth, and that women are most often paid less than men not because they are discriminated against, but because they have made lifestyle choices that affect their ability to earn. | Read More |
Ashe Schow: Unhealthy masculinity?
Janet Albrechtsen: Modern feminism is silent on the real issue of freedom for women
Sophie Jamieson: Lawyer accused of sexism after complimenting barrister on 'stunning' LinkedIn picture
About gynocentrism: Refuting Feminists' Appeal to Dictionary
Cathy Young: GamerGate Culture War for People Who Don't Play Video Games
Cathy Young: NY's law to stop college sex assaults is flawed
Thomas Hobbes: 3 Ways The Collapsing Family Unit Is Bankrupting Society
John Hydenius: All Swedes Will Be Forced To Fund Female Promiscuity
Charles Wickelus: Are Men To Blame For Women's Mental Health Issues?
Hesse Kassel: 5 Questions To Identify Who Really Rules Over You
BBC: Intelligent machines: Call for a ban on robots designed as sex toys
No, Hillary Clinton, Rape Victims Don't Have 'Right to Be Believed'
DMN: 2 Week Old Killed by Mom After Argument, Mom Then Shipped the Body of the Baby to his Father
Martin Daubney: Is it now sexist to put your arm around your girlfriend's shoulder?
Kathy Gyngell: A feminazi lesson from top private head. Boys should be brainwashed into taking girls seriously
Emily Yoffe: A Campus Rape Ruling, Reversed
Milo Yiannopoulos: Why Women Should Panic
COTWA: The institutionalized hostility to the rights of college men is not a "war on men," clucks female writer
Justin Wm. Moyer: Having sex with robots is really, really bad, Campaign Against Sex Robots says
Lauren Fraser: Feminism Needs to Stop Isolating Females
Janet Bloomfield: #GamerGate is fundamentally a fight for men, for masculinity and for male spaces
Janet Bloomfield: What MRAs do for men, and why we hate feminists
Bernard Chapin: Sexual Utopia in Power, F. Roger Devlin
Bernard Chapin: Police Threaten University Star Chambers
Rollo Tomassi: A Man in Demand Conference – The Review
Robert Stacy McCain: Why Do Feminists Hate Sex Robots?
Chuck Ross: Rolling Stone Reporter Cried Over False Gang-Rape Article, But For Selfish Reasons
Naomi Evans: Stop Paternity Fraud Rally at the Olympia, Wa Capital
Why do I include links to crimes committed by women but not men? To counter the stereotype that all men are violent and all women are victims. The stereotype is a lie. Some men are violent. The reports about violent women prove that neither women nor men are better than the other. We are all just people.
---
Health: Defy Disease & Thrive
July 22, 2015
Brownstein: The Great Statin Debate Continues
Brownstein: Why You Need To Identify and Treat Heavy Metal Toxicities
Brownstein: Mercury in Vaccines: A Ridiculous Practice
Brownstein: The Epidemic of Breast Cancer and Thyroid Disorders: The Common Link
More News in
Archives!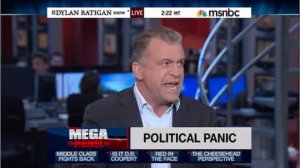 Dylan Ratigan (rightfully) loses it on air
Featured
October 9, 2015
Patrick J. Buchanan: War Party Targets Putin
Joshua Krause: SS Hillary Clinton
Patrick M. Byrne: Future Is Decentralized
Donald Trump: 'Eminent Domain Is Wonderful'
---
Politics: Freedom & Liberty
October 9, 2015
Patrick J. Buchanan: The Mind of Mr. Putin
| | |
| --- | --- |
| | Cycles of War & Sovereign Debt Crisis 90 Minute DVD is a condensed version of Martin Armstrong's 2014 Cycles of War & Sovereign Debt Crisis conference. The conference covers the Cycles of War extensively and its impact on future market trends. Topics include government spending, the Ukrainian conflict, and the outlook for gold. | Read More |
Nick Gillespie: Being a Neocon Means Never Having to Say You're Sorry
Veronique de Rugy: Let States Build Their Own Highways
Damon Root: Yes, the Second Amendment Protects Individual Rights
Ferghane Azihari & Louis Rouanet: No More "Free Trade" Treaties: It's Time for Genuine Free Trade
Patrick M. Byrne: The Future Is Decentralized
Simon Black: Donald Trump's tax plan is supported by 7 decades of hard data
Donald Trump: 'Eminent Domain Is Wonderful'
Paul Craig Roberts: Vice Is Washington's Signature
Eric Peters: Another Car We're Not Allowed to Buy
Brandon Smith: Syrian Crisis: What Will Happen Next?
Joshua Krause: Russian Allies Are Already Wiping the Floor with ISIS
Martin Armstrong: The Peak in Government? A Low in Interest Rates?
Martin Armstrong: Democracy Is More Than A Right to Vote
Barbara Kay: AP offers a victory to us 'doubters' of climate change
Kurt Nimmo: Trans-Pacific Partnership Deal Reached
Tim Craig: Doctors Without Borders Says U.S. Airstrike Hit Hospital in Afghanistan; At Least 19 Dead
Brandon Turbeville: Are Americans And Britons Being Prepped For A Military Coup?
Joshua Krause: Why The "War on Police" Is A Complete Sham
Rachel Blevins: U.S. Senators Call For Obama To End Program Training Syrian Militants
Joshua Cook: As Petition Signatures Rise, Rand Paul Agrees To Truth In Media Town Hall
Glenn Greenwald: CNN and the NYT Are Deliberately Obscuring Who Perpetrated the Afghan Hospital Attack
Llewellyn H. Rockwell, Jr.: The Menace of Egalitarianism
Eric Margolis: Putin Moves His Rook Into Syria
Jack Perry: Children Learn What They Live
Zero Hedge: China To Join Russian Military In Syria While Iraq Strikes Intel Deal With Moscow, Tehran
Zero Hedge: Vladimir Putin Explains To The UN Why The World's Chaos Is Not His Fault Either
Zero Hedge: Role Reversal In The New Cold War
Zero Hedge: Syria Ground War Imminent? U.S. Accuses Russia Of Launching Syrian Land Campaign
Zero Hedge: This Is How Close US And Russian Jets Are To A Dog Fight Above Syria
---
Health - Continued
July 22, 2015
Mercola: Green Spaces Make Kids Smarter
Mercola: Researcher Reveals Monsanto Has Known Since 1981 That Glyphosate Promotes Cancer
Mercola: 13 Health Foods That Taste Better Than Junk Foods
Mercola: 7 Things Emotionally Successful People Do Differently
Mercola: Eating Sugar Makes You Stupid
Mercola: Dissenting Lawmakers Punished as Corporate Takeover of United States Advances
Mercola: 8 Delicious Ways to Use Chia
Mercola: Mushrooms Used in Chinese Medicine Can Slow Weight Gain
Mercola: Will New 2015 Dietary Guidelines Reverse Four Decades of Foolish Fat Phobia?
Mercola: 10 Sources of Endocrine Disruptors and How to Avoid Them
Mercola: The Fluoride Deception Continues as US Government Ignores Fluoride's Role as an Endocrine Disruptor
Mercola: Vitamin K2: The Missing Nutrient for Heart and Bone Health
Lilley: If vaccines don't cause brain damage, why is GlaxoSmithKline paying out $63 million to vaccine victims?
Benson: Prevent artery hardening and calcium buildup with aged garlic
Godiyal: Monk fruit - A Power food for diabetes
Wright: Low testosterone can lead to poor health and rapid aging in both men and women
More News in
Archives!