Jmnzz: Feminism in a Nutshell v2.0
Featured
March 12, 2014
Christina Hoff Sommers: Failed gender revolution
James Altucher: Dealing With Haters
Tiffany Burba: Taking compliments
Lauree Benton: Sexist Feminist
Von Munchausen: Women Make Poor Decisions?
---
Sex: Pro-Woman, Anti-Feminist
March 3, 2014
Rikki Rogers: Women Are Kind And Men Are Strong: How Benevolent Sexism Hurts Us All
| | |
| --- | --- |
| | The Myth of Male Power [2014 Kindle Edition]: The Myth of Male Power documents how virtually every society that survived did so by persuading its sons to be disposable--disposable in war, disposable at work--and therefore, indirectly, disposable as dads. | Read More |
Giovanni Dannato: Why Society Owes Men Sex
Quintus Curtius: The Battle To Maintain Frame Control
Lenny Giardino: Fathers Can Be The Difference in a Child's Life
Michael Graziano: An inconvenient child
Margaret Wente: The manufacture of "rape culture" is a triumph of ideology over substance
Brighton false rape claim woman Sharlene James jailed
Samantha Poetter: Third-wave feminism requires inequality
Steve Stewart-Williams: Why Men Still Outnumber Women in Science
Mayor Presents Attorney Jeffery Leving Proclamation Creating New Holiday Honoring Fathers in Henderson
Barbara Kay: Rape culture and the delusions of the feminist mind
Robert Franklin, Esq.: Gilbert Tso's Case: For States, Child Support is All About the Money from Uncle Sam
Matthew Rousu: Childless Women In Their Twenties Out-Earn Men. So?
The Huge Cost Of Male Genital Mutilation
Carrie Lukas: The War on Women Will Be the Left's Campaign Theme — Will the GOP Be Ready?
Charlotte Hays: Yep, the "War on Women" Is a Fund-Raising Tool
COTWA: Motivational speaker wrongly arrested for sexual assault
Eric Levenson: Men Are Fragile and Do Not Need Your Common Courtesies, Says Science
Austin Petersen: Is It OK For Teachers To Rape Their Students If She's Hot And They're Young Males?
ManKind Initiative: 25 key facts about male victims of domestic and partner abuse
Joe Cohn: 'Bait and Switch' at Dept. of Education's Negotiated Rulemaking Session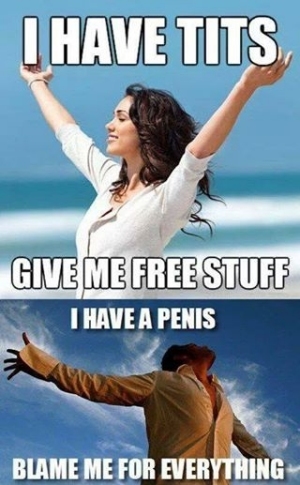 Why do I include links to crimes committed by women but not men? To counter the stereotype that all men are violent and all women are victims. The stereotype is a lie. Some men are violent. The reports about violent women prove that neither women nor men are better than the other. We are all just people.
---
Health: Defy Disease & Thrive
February 25, 2014
Wells: Top seven ways Big Food tricks you into eating cancer
Yogurt May Prevent Diabetes: Study
Patrick Cox: Well-Child Visits Linked to More Than 700,000 Subsequent Flu-Like Illnesses
Art of Manliness: Unleash Your Inner Wolverine: How to Develop Superhuman Healing Power
Pearson & Shaw: Would You Like To Enjoy Life More?
Block: Ulcer Bug Eradication Empowers Galantamine
Block: Ashwagandha's Sperm Building Power
Block: Ashwagandha Improves Reaction Time in Bipolar Disorder
Block: Ashwagandha Demonstrates Anticancer Activity
Block: Bacopa Enhances Speed of Attention
Block: Bacopa and Melatonin Protect Memory
Block: Omega-3 Fatty Acids, Alpha Lipoic Acid and Vitamin E Lower Insulin Resistance
Block: Purple Corn Color: Antihyperglycemic Agent and Pancreatic Beta Cell Protector
Block: Ginseng Improves Whole Body Insulin Resistance
Block: Purple Corn Color Reduces Osmotic Stress in Diabetes
Block: Turmeric Extract Beats Curcumin
Faloon: When Will Doctors Recognize This Leading Cause of Death?
Iafelice: Sweet As Sugar: Health Benefits Of Stevia And Xylitol
Sisson: Crispy and Creamy Avocado Fries
Sisson: Performance Up! Inflammation Down!: Professional Baseball Pitcher Goes Primal and Sees Immediate Results
Sisson: We Don't Know What Constitutes a True Paleo Diet
Sisson: Celeriac Noodles with Parsley Pesto
Sisson: A Primal Look at Art Therapy
Sisson: Do You Really Need to Eat Vegetables to Be Healthy?
Sisson: How to Ensure Your Final Years Are Good Ones
Sisson: Coconut Amino Beef Skewers with Crispy Kale
Sisson: Is Gently Cooked Food Better for You?
Wright: Two delicious foods that protect against type 2 diabetes
More News in
Archives!
Erin Ade's Excellent Editorial!
Featured
March 12, 2014
Rick Rule: Water Arbitrage in California
David Stockman: Folly of Free Money
Richard Russell: Devastating Truth About US
Paul Adams: Friendly Australian Projects
---
Money: Opportunity & Prosperity
March 12, 2014
Cold Fusion: Rossi Working on E-Cat Jet Engine
| | |
| --- | --- |
| | Aftershock: Protect Yourself and Profit in the Next Global Financial Meltdown offers a vivid picture of what to expect when the world's bubble economy pops and tells you how to protect your assets before and during the coming Aftershock and how to capitalize on the new opportunities that others will miss. | Read More |
GE Christenson: Gold: 14 Years & Three Patterns
Stewart Thomson: The Gold Demand Mystery
Frank Homes: A Comparison of Today's Gold Rally with 2009
Keith Weiner: Monetary Metals Supply and Demand Report: 9 Mar, 2014
The Bear's Lair: Gold is libertarian, cyberspace isn't
Paul Adams: Investor-Friendly Australian Projects Around the World
Mike Breard: Buy Small for Deep Profits
Daniel R. Amerman, CFA: How Social Security "Trust Funds" Will Change Private Retirement Income
Zero Hedge: The Devil Lurking In The Retail Store Closure Details
Zero Hedge: Former Heinz CEO Gets $110 Million As Firms Cuts 3,400 Jobs
Zero Hedge: Mt.Gox Hacker Demands Ransom From Exchange Users To Not Reveal Their Personal Data
---
Health - Continued
February 25, 2014
Wright: Vitamin E is essential for Alzheimer's prevention
Wright: Gingko Biloba and berberine can protect against radiation exposure
Wright: For the moment, this is as close as we can get to GMO labeling
Wright: Tamiflu offers meager results but many potential side effects
Wright: A simple lozenge can work wonders on the common cold
Wright: Vitamin D really does work wonders, but there's a catch
Wright: Lycopene might sidetrack fluoride damage
Wright: The FDA treats type-2 diabetics like guinea pigs
Wright: For men, selenium delivers a powerful one-two punch
Wright: How Big Food hides the truth about what's on your dinner plate
Wright: Mainstream medicine's CT scan overuse is giving us cancer
Wright: ADHD researchers reconsider their 1999 recommendations
Wright: IV vitamin C kills cancer cells and soothes chemo side effects
Wright: Alzheimer's risk increases with DDT exposure
Mercola: The FDA Does Regulate Nutritional Supplements
| | |
| --- | --- |
| | Grain Brain: The Surprising Truth about Wheat, Carbs, and Sugar--Your Brain's Silent Killers: The devastating truth about the effects of wheat, sugar, and carbs on the brain, with a 30-day plan to achieve optimum health. Renowned neurologist David Perlmutter, MD, blows the lid off a topic that's been buried in medical literature for far too long: carbs are destroying your brain. | Read More |
Mercola: Another Study Finds Arthroscopic Knee Surgery No Better Than Sham Surgery
Mercola: 10 Popular Foods That Drain Energy and Add Extra Pounds
Mercola: The Rise of Organic Gardening
Mercola: Fish Oil Cited in Dramatic Healing After Severe Brain Trauma
Mercola: Radioactive Fertilizer—The Surprising Primary Cause of Lung Cancer in Smokers
Mercola: Krill Oil Supplementation Lowers Your Triglycerides
Mercola: Cut Flowers—A Major Yet Little-Known Source of Toxic Pesticides
Mercola: Power of Monsanto: Shareholder Meeting Had More Cops, Arrests Than Votes for GMO Labels
Mercola: What the FDA Knew (and Hid) About Antibiotics in Animal Feed
Mercola: 9 Ways That Eating Processed Food Made the World Sick and Fat
Mercola: Glyphosate May Be Worse Than DDT, Which Has Now Been Linked to Alzheimer's Disease, Decades After Exposure
Mercola: Jet Lag, Late Nights, and Naps Disrupt Gene Function
Mercola: 3 Fitness Tests to Assess Your General Fitness and Health Risks
Mercola: Exercises At Home: 10 Ways to Use a Foam Roller
Mercola: Genetic Fallacy: How Pesticide Companies Silence Scientific Dissent
Mercola: Peanut Allergy Treatment 'a Success'
Mercola: Epidemic of Infantile Rickets May Have Put Thousands of Innocent Parents in Jail for Child Abuse
Mercola: New Analysis Claims Vitamin D Supplements Are Useless -- Here's Why It's Wrong
Mercola: Not Any Old Vitamin E Prevents, Reverses Lung Cancer
More News in
Archives!
Featured
March 11, 2014
Bob Moriarty on Ukraine and the Crimea
Jeff Thomas: It Will Happen Suddenly
Ron Paul: Can We Afford Ukraine?
Cary Darling: Snowden urges protect identities
Judge Andrew P. Napolitano: Monster Putin
---
Politics: Freedom & Liberty
March 11, 2014
Douglas French: Freedom is Not an Elaborate Fiction
| | |
| --- | --- |
| | Churchill, Hitler, and "The Unnecessary War" Patrick Buchanan proves that, if not for the blunders of British statesmen—Winston Churchill first among them—the horrors of two world wars, the Nazi Holocaust, and half a century of murderous oppression of scores of millions under the iron boot of Communist tyranny would never have happened. | Read More |
Ron Paul: Can We Afford Ukraine?
Cary Darling: Snowden urges Americans to learn to protect identities online
Daily Bell: Economic Dysfunction! What, Oh, What Should We Do?
Daily Bell: Kerry's Climate Change Priority Signals a Revitalized Warmist Meme?
George Burdeau on the Magna Carta, Subsistence Culture and the Future of Western Civilization
Surveillance State on Display at 4th Amendment Hearing
Judge Andrew P. Napolitano: Monster Putin
Simon Black: "No inflation" Friday: the dollar has lost 83.3% against…
Simon Black: The government tries to terrorize a widow—fails
Patrick J. Buchanan: Hillary, Hitler & Cold War II
Mac Slavo: Game Changer: It Will Be Shocking for the Average American: "Your Cost of Living Will Quadruple"
John W. Whitehead: Lights, Camera, Arrested: Americans Are Being Thrown in Jail for Filming Police
Ryan McMaken: Crony Capitalism and the Transcontinental Railroads
Ask Prabhu: 3 Years Later, All is Still Not Well in Fukushima
Nick Gillespie: Kill the FDA (Before It Kills Again!): Dallas Buyers Club
Zero Hedge: Feds Subpoena Port Authority Records As Christie Probe Deepens
Zero Hedge: The Russian Perspective: "There Will Be War In Ukraine"
Zero Hedge: Hello HillaryCare: ObamaCare Deadline Extended Beyond Obama's Term
Zero Hedge: Russia Today Anchor Quits Live On Air Over "Whitewashed" Coverage Of Putin
---
Health - Continued
February 25, 2014
Mercola: Pesticide Spraying May Spread Norovirus
Mercola: Excessive Sugar and Lack of Preventive Measures Threaten World with Disastrous Levels of Heart Disease and Cancer
Mercola: Subway to Remove Shoe Leather Chemical from Their Bread
Mercola: Taming the Monkey Mind—How Meditation Affects Your Health and Wellbeing
Mercola: Low-Level Pesticide Exposure Linked to Parkinson's Disease
Mercola: Many Men Risk Their Health by Taking Testosterone When They Don't Need It
Mercola: How Avocado Can Help with Weight Management
Mercola: Top 8 Health Benefits of Cauliflower
Mercola: The Links Between Your Diet and Hormone Levels, and How Estrogen May Protect You Against Dementia
Mercola: 11 Charts That Show Everything Wrong with Our Modern Diet
Mercola: Dry Skin Brushing: Benefits and How To
Heyes: Antidepressant Paxil, commonly precribed for depressed cancer patients, increases risk of breast cancer
Goldstein: Treating hidden causes of disease results in miraculous healing
Devon: California doctors refuse to perform back surgery on man with Obamacare coverage
Wright: Lead toxicity causes a host of suprisingly unpleasant health conditions
Heyes: Vitamin C can help reduce your risk of a stroke
Henry: 5 reasons your digestive system isn't working properly
Ravensthorpe: Vitamin D: Are you getting enough of this essential vitamin?
Wright: Is DHEA a veritable 'fountain of youth' in a bottle?
Louis: Exposure to nicotine in womb raises obesity risk
Adams: 12 potentially life-threatening errors you're making in food preparedness and survival strategies
Wright: Eight unique ways to use honey beyond the kitchen
Yanjun: Taking a daily brisk walk lowers the risk of prostate cancer
Yanjun: Look years younger by ditching health-sapping bad habits
Heyes: Constantly stressed out people are more likely to develop brain illness
Phillip: Go nuts to significantly lower risk of obesity and diabetes, and aid your weight management strategy
Simard: Chicory is especially great for your liver and digestive tract
Adams: Mercury toxicity explained: an interview with Dr. Chris Shade of Quicksilver Scientific
Heyes: NY Attorney General confirms real-life conspiracy among drug companies
Devon: Fish in Gulf of Mexico experience heart attacks due to oil contamination
Chow: Large study finds mammograms do not lower breast cancer death rate
Heyes: Children being exposed to more brain-harming chemicals than ever
Heyes: ADA recommends using fluoride to poison infants as young as six months old
Antonia: Woman heals her psoriasis with infection-fighting properties of wild oregano oil
Wright: Research reveals the latest weapon against Parkinson's and Alzheimer's: Green tea
Landsman: Natural cures for depression and anxiety disorders
Ravensthorpe:Eggs are a great source of protein, minerals and carotenoids
More News in
Archives!